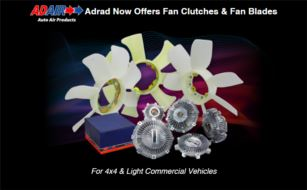 A worn fan clutch prevents the engine cooling system from operating at optimum level. Vibration from a worn fan clutch may also be transmitted to other parts on the same belt system, leading to increased wear and premature failure.
Failed fan clutches may also place constant and unnecessary load on the engine, reducing available power and increasing fuel consumption.
When a failed fan clutch does not engage cooling fans, under-bonnet heat can build up, reducing efficency of the vehicle air conditioning system which must work harder to maintain cabin temperature.
Adrads brand new product line of fan clutches and fan blades are made to suit 4×4's and light commercial vehicles.
Adair fan blades are manufactured to original equipment specifications and are a direct-fit replacement, designed to resist cracking and warping in the extreme heat of engine bays. Adair fan blades are made from the highest grade Polypropylene (PP) or Polyamide (PA) to match the vehicle manufacturer's material specification. Blade profiles are also the same as the factory deisgn to match cooling performance and noice levels.
High quality Adair fan clutches are manufactured to meet O.E. specifications.
Application guides are available. Contact us today if you would like to recieve a copy!